New Film Developed to Boost Solar Cell Efficiency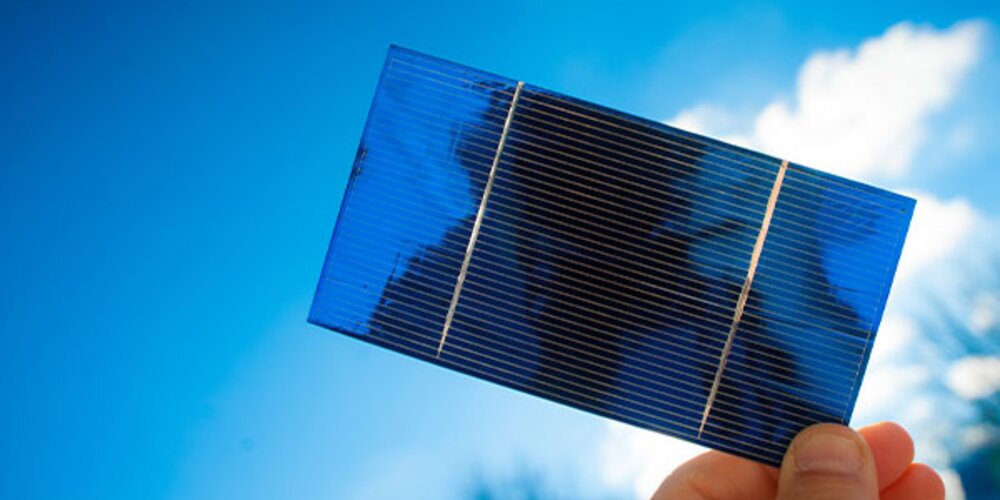 Here at The Lab we're always on the lookout for new materials innovations which could benefit our clients - and a new thin film which promises to boost solar cell efficiency certainly looks like it could fit the bill…
The film, which has been developed by researchers at New York University (NYU) Tandon, works by converting UV rays and blue photons from sunlight into near-infrared photons. The result of this is a boost to the overall efficiency of solar cells.
This is important, as existing silicon-based solar cells can only efficiently use certain wavelengths of light. For example, UV and blue light can't be converted to electrical power as well as infrared light can be.
As a result, a great deal of the potential energy in sunlight is wasted when it hits a silicon-based solar panel.
The as-yet-unnamed film doesn't just convert previously inaccessible wavelengths into usable energy, but also has another benefit.
By capturing UV light and converting it, the film prevents UV rays from damaging the solar cells (UV has typically been seen as a significant cause of solar cell degradation). UV rays can also cause overheating as a result of the excess energy they carry - thus further contributing to solar cell degradation.
The film is made up of an inorganic perovskite material which is doped with small amounts of ytterbium. As the perovskite absorbs blue light, it transfers it to the ytterbium, which then emits it as near-infrared light. The resulting red photons are then 'picked up' by the silicon solar cell, providing additional energy to the regular wavelengths it is normally able to acquire.
Having achieved this, the researchers have now turned their attention to improving the film further as well as pursuing real-world testing on in-situ solar panels.
Are you interested in materials science?
Then you'll love The Lab.
As one of the UK's leading laboratories for forensic investigations, fuel testing and analysis and non-destructive testing, we help companies large and small, test materials of all types.
For more maritime and energy industry news and developments, explore The Lab's News and Knowledge Hub…
Shell to Build Europe's Largest Renewable Hydrogen Plant | Is Carbon Neutral Concrete on the Horizon? | Could Hemp Rebar Offer a Non-Corroding Alternative to Steel
Author

Dr Holly Edwards

Date

19/08/2022