The Lab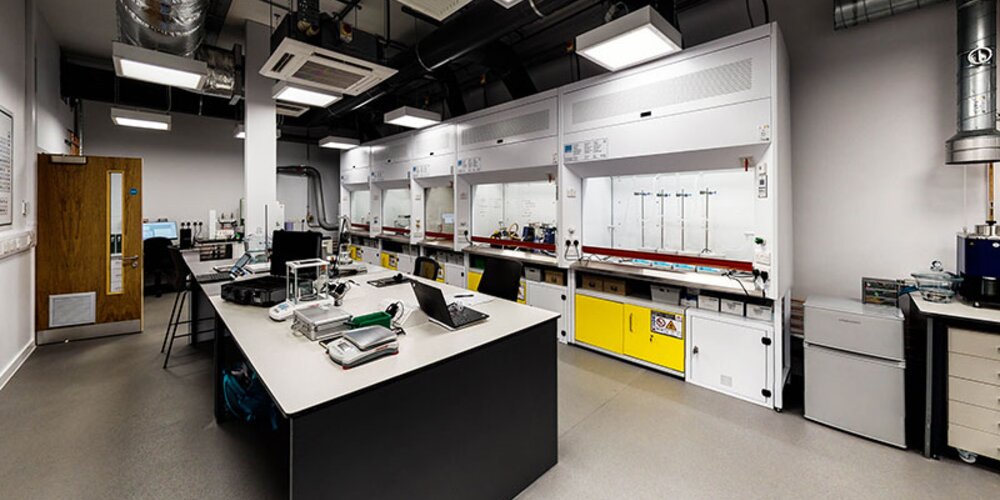 The Lab, the independent laboratory facility opened by Brookes Bell in January 2021, is celebrating its first twelve months of rapid development and significant progress – with ten new employees, new industry-leading equipment and a range of new innovative investigative services.
Launched last year, in the midst of a global pandemic, the 8,000 sq ft independent laboratory facility includes advanced testing and inspection facilities, a modern laboratory, engineering workshop space, flexible training facilities and offices.
So, 12 months on, what is The Lab able to offer…?
The Lab is now equipped with the latest analytical tools for forensic metallurgical investigations including digital microscope equipment, a Scanning Electron Microscope, a portable LIBS (Laser Induced Breakdown Spectroscopy), PMI (Positive Material Identification) and the Olympus DSX-1000 digital optical microscope (one of the leading, industrial light microscopes).
The new fuel-testing facility is conducting a growing number of fuel-related investigations and claims where poor quality fuel has led to extensive and expensive machinery damage. Fuel can be tested to the industry standard of ISO 8217 and based on the needs of our clients, we have introduced more complex investigative analysis too such as GCMS (Gas Chromatography Mass Spectrometry), ICP (Inductively Coupled Plasma) and FTIR (Fourier Transform Infrared Spectroscopy).
The new paint and coating services have seen increasing demand for paint analysis to help with investigations involving tank and hull coating failures, while coating flakes are being examined and analysed to determine the reasons for blistering, detachment, cracking, rust formation and inadequate antifouling protection.
The Lab's non-destructive testing (NDT) team are using state-of-the-art NDT techniques, like Pulsed Eddy Current Array (PECA) to reveal the condition of metal structures through composite decks, thick lagging and coatings. These non-intrusive surveys can be performed anywhere in the world for cruise, superyacht and ro-ro/passenger ships while the vessel is in service, at berth, or at sea. Previously, coating layers had to be removed for inspections to be conducted, using rudimentary methods like ultrasonics – creating waste and increasing cost.
By applying the latest technology, The Lab has been able to utilise bespoke advanced Eddy current array (ECA) probes to examine welding for harmful defects like surface breaking cracks, in dirty, coated and abrasive surface conditions on all sorts of weld shapes (the probes simply adapt to fit the weld crown).
By combining advanced data acquisition, analysis and reporting software the team have been able to evaluate inspection data and build accurate digital twins for clients, thereby optimizing the efficiency of future inspection by providing full trend analysis. This means we can create accurate corrosion mapping (CMAP) models for ships approaching drydock refit, intermediate or special Class survey, allowing our clients to save time and money by streamlining their planning.
The Lab has also created ten brand new jobs, all highly skilled specialist roles. Caroline Young, Technical Sales Executive for The Lab will lead on business development. She holds a PhD in Materials Engineering and has been working as an environmental consultant covering key accounts across the oil and gas, and renewable energy sectors, before which she worked for 20 years with The Welding Institute, providing advice and conducting research for member companies worldwide.
Five of the new roles are in non-destructive testing. Two are graduate apprenticeships and one is a school leaver, engineering apprentice. The apprentices have all been recruited locally and will study for their NDT level 3 qualifications and ISO 9712 PCN Level 2 Certification in both basic and complex testing methods. Their recruitment helps to address an industry wide skills shortage and gives three young people the opportunity to build careers in an exciting growing sector.
Ken Kirby, Director of Metallurgy, Inspection and NDT says: "In just one year, in response to our clients' needs, The Lab has enabled us to develop many new and innovative forensic and investigative services. We have been able to capitalize on local business opportunities that hadn't been spotted before and to provide new services for land-based manufacturing applications by applying the new technology to different investigations.
"Even with all the restrictions and significant challenges associated with the global pandemic, we've achieved solid growth and are clearly demonstrating to our clients, stakeholders and wider industry just what a facility like this can deliver. Looking ahead, the sky really is the limit."