Corrosion costs time and it costs money. In fact, the collective global cost of corrosion to shipowners has been estimated between $50bn and $80bn according to The Association for Materials Protection and Performance (AMPP).
For vessel owners and operators and those involved in the management or maintenance of vessels, corrosion presents a number of significant challenges, from compromised structural integrity and the consequential safety issues which can culminate in the need for expensive repairs. Added to this is the loss of earnings from vessel downtime.
However, there's an innovative new solution that will:
Identify corrosion across all areas of a vessel - not just spot checks.

Allow this corrosion data to be interpreted and understood in a visual format derived from a digital twin: a virtual representation of the ship enabling real-time monitoring, analysis and simulation.

From there, a comprehensive understanding of the corrosion issues affecting the vessel can be attained, helping to identify critical areas requiring immediate attention and forecasting repair costs, prior to the vessel entering dry dock.
The name of this solution? CMAP - The Lab's innovative new corrosion mapping service.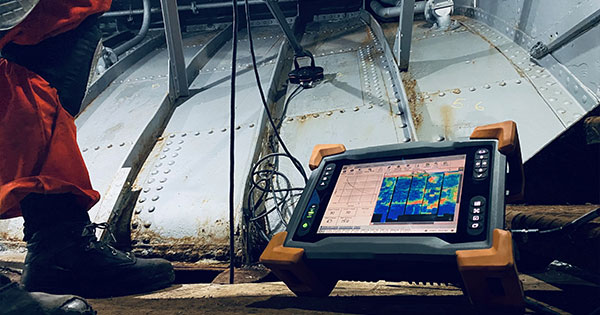 What is The Lab's CMAP service?
The Lab's CMAP service consists of a highly refined PECA inspection technique, the results of which are modelled in The Lab at Brookes Bell's 3D data visualisation software and then married to a visual dashboard that creates a CMAP global overview report highlighting the condition of a vessel's steel, the remaining wall thickness and material loss.
The Lab's CMAP service gives you comprehensive, easy-to-interpret data, allowing you to make quicker, more accurate decisions resulting in significant cost savings.
What are the benefits of The Lab's CMAP service?
In short, The Lab's CMAP service allows vessel owners to:
Better understand the extent of corrosion present on their vessel.
Accurately understand the required repairs.
Develop an accurate understanding of the cost of repairs, and thus benefit from improved cost management.
Better plan out required repairs, leading to less downtime.
Ensure class compliance with Lloyd's Register through use of detailed CMAP analytical data.
By providing a deeper level of understandable data, provided in a truly legible format, The Lab's CMAP service allows vessel owners and operators to make better, quicker, more informed decisions that result in significant cost savings.
How does The Lab's CMAP service work?
Developed over the past five years, The Lab has collaborated with OEM manufacturers of PECA instrumentation and probes to develop a unique pulsed eddy current array (PECA) material state evaluation and thickness measuring technology.
Our PECA technology is arguably the most thorough corrosion mapping and detection solution on the market due to its ability to assess through myriad surfaces and thick coatings or coverings, such as:
SynDeck, Camrex and hull fairing compounds.
Wooden teak or composite coverings such as Bolidt-deck.
Ceramics.
Antifouling and other cementitious screed and underlays.
It's also equally effective on steel surfaces and can penetrate steel through thin paint coatings.
However, the corrosion data gathered from a PECA analysis is only useful and valuable if it can be correctly interpreted.
With that in mind, The Lab developed CMAP.
This is a powerful dashboard that translates the results of our PECA analysis into visual, easily digestible - and most importantly - actionable findings.
This results in significant direct and indirect cost savings for your company or organisation.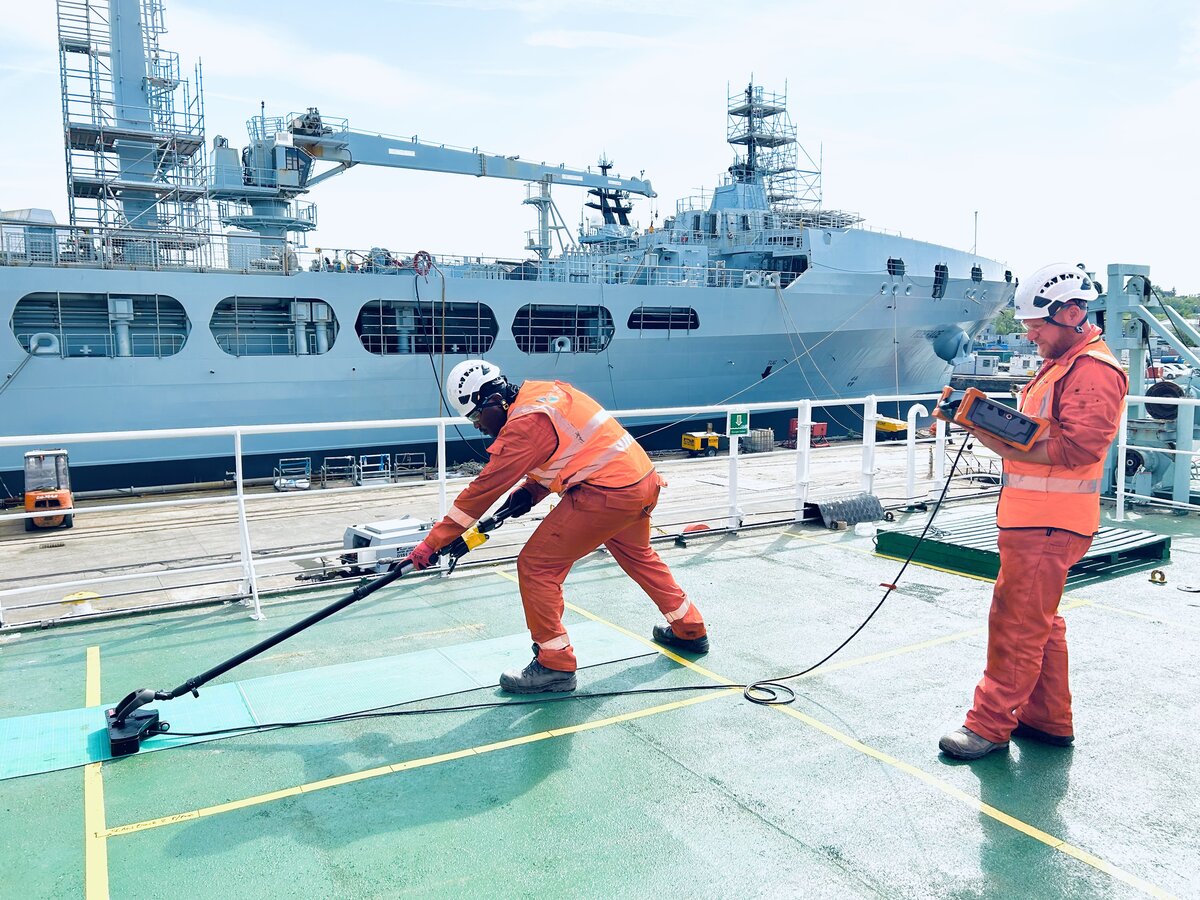 The Lab's CMAP service in action
So, what does The Lab's CMAP service look like in action? Below, we've set out each step in a typical CMAP inspection and analysis process.
The area(s) to be analysed are mapped out into scan zones, either by individual plate sections or broken down into specific zones to tackle the various complex geometries onboard a vessel.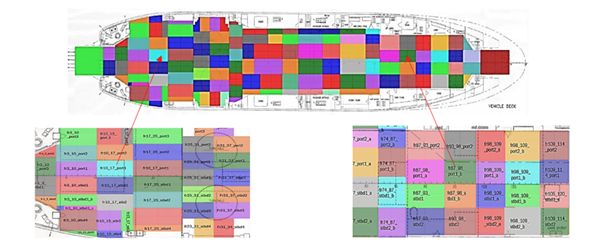 Our team then uses our custom-built PECA probes to scan the assigned sections or zones.
The resulting data is then used to produce a model, or digital twin, called a 'CMAP'. This allows us to create a visual representation of the scan data, highlighting areas of concern.

Each plate or area is also given its own report sheet for onward analysis. This provides a clear overview of the condition of each plate/zone, identifying areas that need to be repaired/replaced or carefully monitored.
The final stage of our CMAP service involves the creation of a tabular report of each plate/area/zone. This tabular report sets out the physical characteristics of each location, illustrating average remaining wall thickness, material loss and maximum wall loss value detected.
How was The Lab's CMAP service developed?
Over half a decade, The Lab has developed and actively tested its CMAP service across all inspection scenarios that could be encountered on marine vessels.
We have worked closely with the British Royal Navy's Warships Technical Authority (WTA) and the classification society Lloyd's Register - along with wider Ministry of Defence stakeholders - to validate CMAP for use on marine vessels, platforms and structures.
During the course of its development, we focused on the continuous improvement, scalability and efficiency of our CMAP service.
The technology has been tested and honed on the Royal Navy's Type T23 frigate vessels, landing platform docks (LDPs), and on several Ro-Pax ferries and superyachts in the commercial sector. These ship types all exhibited the range of corrosion that continuously plagues vessel owners and operators around the world.
Since then, The Lab's CMAP solution has been rolled out across the entirety of the Royal Navy fleet.
Validation of The Lab's CMAP service
As you've just read, The Lab's CMAP service has been put through its paces, analysing corrosion on vessels that have spent time in some of the world's most testing, brutal environments.
Based on that development background, and its proven credentials, The Lab's CMAP service has received full validation of the PECA method from Lloyd's Register and is endorsed for the utilisation of PECA and CMAP on naval vessels and now the entire commercial and merchant fleets.
Save time, money and reduce downtime with The Lab's CMAP service.
If you'd like to find out how The Lab's CMAP service could help you identify and tackle corrosion more efficiently and effectively, or you'd like to book a CMAP inspection, speak to one of our team today.
We are happy to provide a free, no obligation discussion on your initial requirements.